The solar industry has charted an impressive course in recent decades. The technology used to harness the power of the sun has continued to advance and now constitutes a low-cost addition to traditional energy sources. Over time, however, the basis of production and innovation has shifted from Europe to Asia. Demands for tax incentives for local production sites are becoming more vocal, now that dependence on energy supply has moved centre-stage due to the war in Ukraine. Germany's Federal Ministry for Economic Affairs has announced plans to boost domestic production to a target of 10 gigawatts. In addition, business daily Handelsblatt has reported plans by LONGi founder Li Zhenguo to build a plant in Germany. Is the sector now poised to make a comeback in Europe?
Energy transition and growth prospects
Greater demand for renewable energy, coupled with the worldwide energy transition, has boosted growth prospects for the solar power industry. According to Solarpower Europe, the capacity of solar installations at global level grew by around 45% in 2022 to 239 gigawatts. In the US in particular, there is a clear trend to government support for solar power through tax incentives – the aim being to participate in the future growth of renewable energy. In Europe, on the other hand, political incentivisation measures are primarily due to the need to secure a home-grown energy supply. This has the potential to stimulate the solar industry and capture new markets. The growing demand for energy in emerging-market countries like India and Brazil additionally offers promising growth opportunities for the solar industry. Energy production is already highly competitive based on electricity generation costs. A study by the Fraunhofer Institute for Solar Energy Systems ISE concludes that solar energy could be the cheapest form of electricity production for Germany, even though the sun could be put to even greater use in other parts of the world.
Electricity generation costs in Germany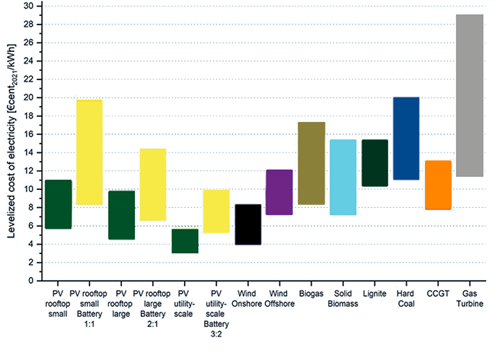 Source: Fraunhofer Institute, as at 2021
The basis of production and innovation has shifted over time
Europe was a leader in the production and innovation of solar technologies in the early days of the photovoltaics industry, with countries such as Germany and Spain having established themselves as pioneers in this area. However, the situation has changed dramatically in recent decades. A combination of low wage costs, increasing technical expertise and government support has prompted many companies to relocate their production sites to Asia. China in particular has established itself as a leading player in the solar industry in terms of production and innovation. The Fraunhofer Institute estimates production capacity in Europe at just 8 gigawatts, equivalent to about 1% of global output. China, on the other hand, accounts for around 75% of the world's capacity. That means Germany's dependence on importing solar power from China is greater than its previous dependence on oil and gas from Russia.
Top 10 solar module manufacturers by production capacity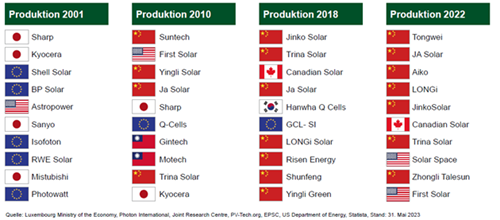 Cost benefits due to economies of scale
The shift in solar production to Asia has also been helped by economies of scale. Mass production of solar cells and modules results in a significant reduction in manufacturing costs. This explains why a majority of producers are permanently operating at full capacity, even though module prices are under pressure. The production capacity built up by China alone would be enough to cover the entire global demand. This has enabled solar power to become more competitive on a worldwide basis and led to an increase in its usage. Thus the cost per watt has fallen to a current level of USD 0.17–0.18 in the case of the lowest-cost module producers. More reductions in the price of solar energy are already in the pipeline, with many producers aiming for a further significant expansion of their capacity. This is partly down to the expected growth in demand over the coming years but also to the next leap in technology, with some manufacturers planning to use TOPCon technology and thus further increase the effectiveness of solar panels.
Race for subsidies
Under the Inflation Reduction Act (IRA), the US has made around USD 369 billion available in the form of subsidies and tax breaks for climate protection. These subsidies will have a lasting impact on the solar industry, given that renewables are one of the main beneficiaries of the IRA in the form of tax credits. The 10-year tax incentive under the IRA also offers the required visibility for incentivising investment decisions that favour the creation of new capacity in the US. Despite healthy business in Europe, German inverter manufacturer SMA Solar is therefore looking at building its own local production facility in the US. The granting of subsidies is nevertheless contingent on a large proportion of the value creation from the supported solar installations being located within the local economy. For example, a new US production site for solar modules with a capacity of 1 GW would receive approximately USD 110 million in incentives in the first five years alone. A certain goldrush mentality can therefore be detected within the industry. Right now this is even reflected in the raw material for solar cells, with polysilicon from the US being traded at a significant premium to comparable qualities from China.
The German Ministry for Economic Affairs recently launched a similar charm offensive for the expansion of solar capacity. The backdrop to this initiative lies firstly in the high dependence on imports when it comes to expanding renewables and secondly in the ambitious targets of 22 GW additional capacity p.a. in Germany from 2026 on an installed basis of 215 GW between now and 2030. According to European Commissioner for Energy Kadri Simson, the EU intends to increase the share of solar power from the current 3% to 15% by 2030. These targets would nevertheless seem to be at risk in light of the experiences with delivery bottlenecks in 2022 as well as protracted approval procedures. Industry representatives say it takes about two years to obtain approval for panel manufacturing in the EU.
In addition, the extremely high price of electricity by international standards is part of the problem in terms of ensuring the EU value chain is as integrated as possible. Production of polysilicon – the main raw material – is highly energy-intensive. Polysilicon producers such as Wacker Chemie in Burghausen were at a competitive disadvantage even before the 2022 surge in electricity prices and have steadily lost market share over recent years. Talks on introducing a government-capped industrial electricity price are a source of optimism, but are proving long drawn out. Meanwhile, polysilicon is being produced in the US at around a third of the cost of electricity in Germany. Wacker Chemie consequently aims to boost sales to semiconductor customers by outperforming its competitors on the purity front.
The existing cost advantages due to economies of scale and government support for production capacity in Asia, and especially China, therefore remain an important factor for the global solar industry. Under the IRA, the US is likely to attract substantial investment from abroad and be able to create many new jobs. Structural advantages in terms of rapid planning approval processes and industrial electricity prices are likely to play a crucial role in the creation of new capacity in the US versus Europe, even if Germany offers the same amount of financial assistance available for a project in a third country.
In summary, subsidies are likely to encourage the expansion of renewables in Europe; however, there is little prospect of this eliminating the dependence on imported solar products from Asia over the coming decade.