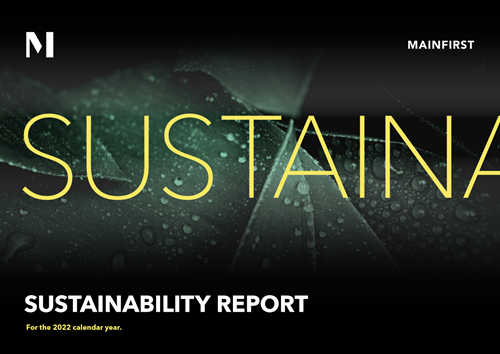 Acting sustainably in all areas is becoming increasingly important for financial service providers. This is demonstrated by MainFirst's third sustainability report. By voluntarily publishing this report, the multi-investment boutique clearly demonstrates that it is aware of its social responsibility and that sustainability is one of its key priorities. The sustainability report also demonstrates the importance the active asset manager places on transparency. 
The sustainability report: for larger companies, it is mandatory; for MainFirst, it is an expression of its own identity. It is also the logical consequence of a process that has been underway for years: since signing the UN PRI in 2015, MainFirst has been incorporating environmental, social, and governance (ESG) principles into its investment decisions. Instead, ESG has become an integral part of every team, from portfolio management and risk management to the executive board.
Success proves that MainFirst is on the right track. ESG rating providers have already analysed and positively assessed some of MainFirst's products. For example, six funds have been awarded the prestigious FNG label, a seal of quality for sustainable investment funds in German-speaking countries.