MainFirst Top European Ideas Fund turns 15 years old. Lead Portfolio Manager Olgerd Eichler looks back on the eventful years since the fund was launched, and explains why the people at the helm of the companies in which he and his team invest make all the difference when it comes to business performance.
Since it was launched on 13 July 2007, MainFirst Top European Ideas Fund has faced many major crises, starting straight away with the financial crisis, leading into the euro crisis, followed by the annexation of Crimea, Brexit and most recently the coronavirus pandemic. Starting out with less than EUR 30 million in AUM, MainFirst Top European Ideas Fund has over the years developed into Frankfurt investment boutique MainFirst's flagship product.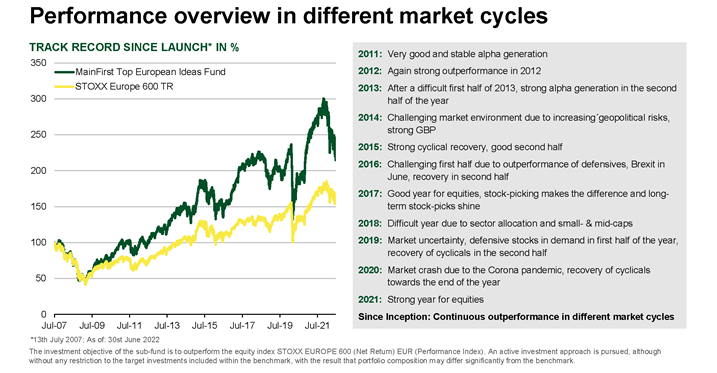 While the past few months, especially since the outbreak of war in the Ukraine, have clearly not been satisfactory – even in an environment dominated almost exclusively by macro-economic factors and in which the vast majority of active fund managers are struggling – our long-term track record has been very successful. 15 years of MainFirst Top European Ideas Fund: 15 years of discipline, experience, focus and passion, and not a few setbacks. With an average annual alpha of over 2% – and in some years above 20% – the fund has a good track record to build on.
Thank you for your support and trust.
We will continue our approach into the future as well: we do not rely on any one single macro scenario. Instead, we look for companies with intrinsic potential and better than average business performance.
Success comes down to people above all else. Every company is led by people: leaders who make all the difference. We value CEOs who see themselves not just as employees but also as entrepreneurs and, ideally, as owners without any political airs and graces.
Rather than focusing on quarterly results, the key is to focus on the long-term and never lose sight of the long-run success of the business. It also helps to have adequate incentive schemes, primarily based on financial figures and shareholdings in the company, as well as a conservative attitude to their own goals. Honest, transparent communication of opportunities and risks as well as medium-term targets that don't beat around the bush complete the picture. "Underpromise and Overdeliver" – This is one of the most common pieces of advice that we give heads of companies in our many meetings with them every year. We prefer modesty to overconfidence.
Successful decision-makers tend not to want to put their reputation on the line when they get involved in a new company. Nor do we want to risk our 15-year track record. We thus want to continue delivering in the future the results we have achieved in the past.
Company analysis remains an integral part of our stock selection. Our approach tends to feature strong company and/or personal track records and countercyclicality, and we particularly value reliability, quality and solidity. In short, this means buying hidden champions early and cheaply.
These are the stepping stones towards many further years and, we hope, decades of actively managed outperformance.
Author: Olgerd Eichler, Portfolio Manager of MainFirst Top European Ideas Fund & MainFirst Germany Fund